Use Maps
The Maps app in Windows Phone can show you where you are, where you you want to go, and provide directions to get you there. It can also show you nearby stores or restaurants you might be interested in and what other people are saying about them.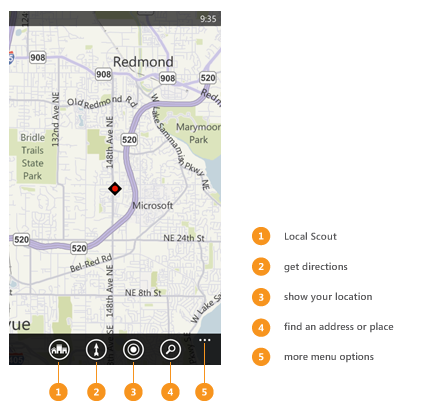 To move around the map
On Start, flick left to the App list, then tap Maps .

Tip

If this is your first time accessing Maps, when you see Allow maps to access and use your location? tap Allow.

Do any of the following:

Flick your finger across the screen in any direction to move the map. The faster you flick, the faster the map scrolls.
To zoom in, spread your thumb and forefinger apart on the map. To zoom out, pinch your fingers together.
Double-tap the map to automatically center and zoom in on a spot. Double-tap again to get even closer.

To go to your current location, tap Me .
To find an address or place
In Maps, tap Search .

In the Search box, type any of the following:

An address (

1 Microsoft Way, Redmond, WA

)
A ZIP Code (

98052

)
A city (

Seattle, WA

)
A business name or type (

coffee shop

)
An intersection (

1st & Main

)
A point of interest (

Space Needle

)

Tap Go .

To get more info about the place, tap the pushpin on the map.

When you tap a pushpin for a store, restaurant, or other point of interest, the Place card opens and can include additional info, such as a street address, directions, phone number, hours, web address, and customer reviews. If you'd like, you can add the place to your list of favorite places.
Tips
Some places, such as shopping malls, may have an indoor map. You can view it either by zooming in on the map, or by going to the Place card, and tapping

Indoor map

to see inside and find out where stores are located.
To see the pushpins as a list, tap

More

>

Search results

. To remove all pins from the map, tap

More

>

Clear map

.
To add a pushpin to a map
Pushpins are handy for remembering a place you want to visit, sharing a meeting spot with friends, or getting directions to a place when you don't know the exact address but can estimate its location on a map.
In Maps, tap and hold your finger on the spot where you'd like to add a pushpin.
Tips
To move a pin, tap and hold, and then drag it to a different spot.
Pin a map location to

Start

for quicker access. Just tap a pushpin, and then tap

Pin

.
You can tap a pushpin to get more info about the place, such as a street address and directions, in the Place card. If you'd like, you can add the place to your list of favorite places.
To share an address with someone
Need to show someone where to meet you? Send the address to their phone or PC, so they can see it on a map or get directions.
In Maps, tap the pushpin of the location you want to share.

Tap Share .

Decide how you want to share the address:

Choose

Messaging

to send it in a text message (SMS).
Choose an email account that you've set up to send it in email.
To turn on satellite view
In Maps, tap More , then tap Aerial view on. To return to the standard map view, tap Aerial view off.
Note
At maximum zoom, the map will automatically change to satellite view. To return to the standard map view, you might have to zoom out a bit first.
Related topic