Change privacy and other browser settings
Internet Explorer Mobile makes it easy to change privacy settings on your phone and control your browsing experience.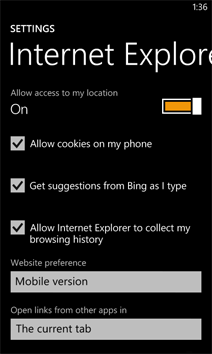 To change your Internet Explorer settings
In Internet Explorer, tap More > Settings. (You can also access Internet Explorer's settings through Settingson the App list.)

Change any or all of the following settings:

Allow Internet Explorer to access your location. For more info about Microsoft's location awareness policy and Windows Phone, see Location and my privacy.
Select or clear

Allow cookies on my phone

to permit or block cookies from being saved on your phone. (Cookies are small files on your phone that websites use to remember things like your password or preferences, so you don't have to retype information each time you visit.)
Select

Get suggestions from Bing as I type

if you want to allow Bing Search to suggest websites as you type into the address bar—potentially a big time saver.
Select

Allow Internet Explorer to collect my browsing history

if you want to help improve the Bing search experience.
Under

Website preference

, select

Mobile version

or

Desktop version

to set which version of a website you see.
Under

Open links from other apps in

, select

A new tab

or

The current tab

to define where a webpage is opened from another app.
Tap

Delete history

to erase browser history, cookies and passwords, and temporary Internet files from your phone.