Everything goes back to Start
On your Windows Phone, Start is like a home: you can keep what really matters to you at easy reach, and you can decorate it so it looks the way you like it. Your Start screen can be spare and minimal, bright and flashy, or some happy medium. It can be busy, orderly, asymmetrical, businesslike, whimsical, or diverse. You can fill it with links, contacts, maps, and apps, or keep it to just a few basics. And you can change it up whenever the mood suits you.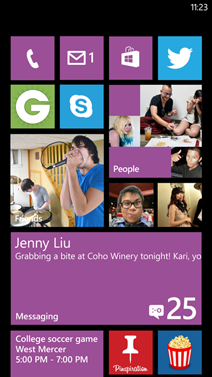 It's also the easiest place to go from anywhere on your phone. No matter where you are, you can press the Start

button to go right there.
Take a shortcut
When you first get your phone, there will be some Tiles already on Start. But which ones stay is entirely up to you—you can move around or delete anything, or add new ones from a variety of places on your phone. Here are a few of the things you can pin:
Apps

– If it's in your App list, you can pin it to Start, including any apps you get from Marketplace.

Contacts

– When you pin a contact to Start, the person's profile picture will show up in the Tile, and you'll get all of their feed updates right there. You can also pin a Group and see the updates for everyone in the Group.

Games

– Go to your Games Hub and pin any game you've downloaded there.

Albums

– You can pin music albums you have in heavy rotation for quick access.

Maps

– Once you've found a location in Maps, you can pin that location to Start and use it as a starting or ending point for directions. Especially handy if you're often going to and from a certain place.

Websites

– Pin a favorite website to Start for an easy launch point.
For even more things to pin, see Pin things to Start.
Move things around
We start you off with a fairly orderly configuration of Tiles, but you don't have to leave it that way: when you move them around, you're free to leave gaps between them, have only one Tile in a row, or fill up every available space.
You can also adjust Tile sizes so you can pack a lot of apps into a small space or revel in the glory of an expanded Tile. All Tiles can be shrunk to the smallest size, and many can be expanded to span the width of the Start screen.
To learn more about rearranging Tiles, see Move, resize, or unpin a Tile on Start.
Bring some color
Your phone comes with 20 colors you can use for your Tiles and the accents peppered here and there around the phone (and some mobile operators might add a color or two of their own).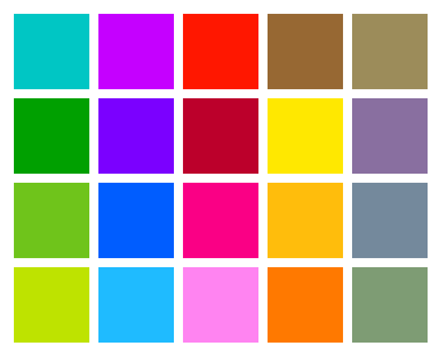 Your theme color will show up not only on Start and your App list, but also in links, Speech, Messaging, and elsewhere.
You can also choose between a white or black background. On some phones, the dark background uses less battery, while the light background is higher contrast. Also, here's a tip: some colors look a little different against the dark background than they do against the light, so if you change between them, try revisiting different theme colors. (Optical illusion? Maybe, but experiment to see what you like.)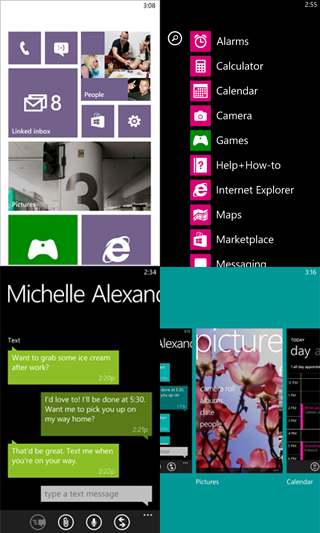 To learn more, see Change accent color or background theme.