What is the Me card?
The Me card is your profile on your phone. It's also your go-to spot for posting to social networks or for a quick look at who's tweeting about you, writing on your Facebook Wall, or commenting on the same stuff you are. A glance at the Me card's Live Tile on Start shows you the latest updates. To find the Me card, do one of the following:
On

Start

, tap

Me

.
On

Start

, tap

People

, flick to

All

, and then tap your profile picture.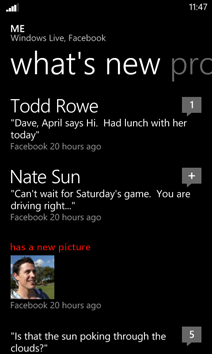 Here are some things you can do on the Me card:
Post a new message on Facebook, LinkedIn, Twitter, or Windows Live.

See Post to social networks to learn how.

See who's talking to (or about) you.

Flick to Notifications and you'll see if someone mentioned you in a Tweet, wrote on your Facebook Wall, or commented on a post you've also commented on.

Update your profile picture on Facebook and Windows Live.

You can update your picture on your phone, Windows Live, and Facebook all at once. To learn how, see Update my profile picture.

Set your chat status.

Let other people see when you're available to chat on Facebook or Messenger. Tap

Me

>

Set chat status

and choose a status.