People Hub
The People Hub is more than just an address book on your phone. It's a one-stop shop that keeps you up to date with your social networks and helps you stay in touch with the people you care about most.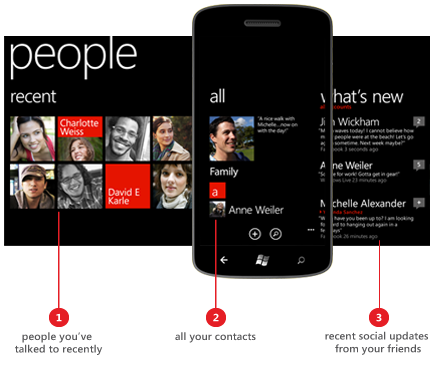 All

– Your contact list. Just tap a name to call, text, chat, email, write on the person's Facebook Wall, or see their latest social updates (you can also tap a group to send an email or message to the members). The History view shows your recent calls and conversations with a contact—handy!

What's new

– Here's where you can check out all your contacts' latest updates, pulled together from your various accounts—Facebook, Windows Live, Twitter, LinkedIn. Bracing for an avalanche of posts, tweets, and pics? No worries—you can filter the info you see. For more information, see Find and filter my contacts.

Recent

– Here you'll see—and get quick access to—the contacts you've viewed or communicated with most recently.
Tip
If you pin a contact or group to Start, its Live Tile will show new updates and messages from the person or group.
Related topics