Link two or more contacts
In People, you might have two or more versions of the same contact. This is usually because you have contact information for that person on different social network or email accounts (for example, Windows Live and Facebook).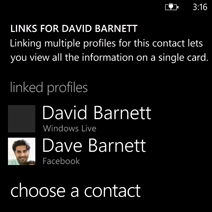 Windows Phone has a solution: linking. You can link multiple contacts so all their info shows up in one contact card. In most cases, your phone will do this automatically. For the rest, you can link them manually.
To link two or more contacts
On Start, tap People , flick to All, and tap the contact you want to link.

Tap Link .

Any contact that is already linked will appear under Linked profiles. If you see the contact you want to link under Suggested links, tap it. If you don't see the contact you want to link, tap Choose a contact to find the right one.

To unlink a contact, tap that contact under Linked profiles, and then tap Unlink.

Note

Linking contacts doesn't copy or delete any contact information from its source. For example, your Twitter information won't be copied to your Exchange account, or vice versa.
Tips
When you link two or more contact cards that have different profile pictures or names, you can choose which picture and name will represent the whole. To learn how, see Add a picture to a contact.
If you have a lot of friends, you can reduce the number that appear in your contact list by choosing to show friends from only some of your accounts. To learn how to do this, see Social networking on my phone FAQ.
Related topics