Office Hub
The Office Hub is the place to go to get stuff done on your phone. Review your notes and documents, make last-minute changes, or create a new document. Then save your Office files to OneDrive (formerly SkyDrive), and pick up where you left off when you're back at your computer.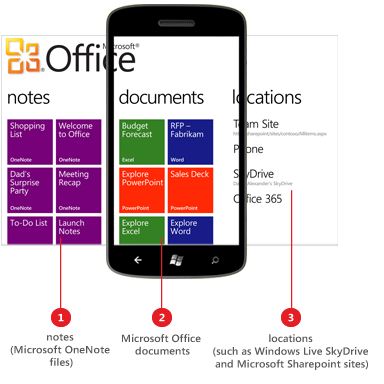 Notes

– View, open, search, and edit your notes to keep track of what's going on at home, work, or school while you're on the go.

Documents

– Open or find existing documents, or create a new one. Any documents you recently saved to your phone (from an email, for example) appear here as well.

Locations

– Access your Office documents from your phone—even those stored in other places like OneDrive, a Microsoft SharePoint 2010 site, or a SharePoint Online site, which is available with Microsoft Office 365.
Related topics