Get started with Microsoft Office Mobile
Microsoft Office Mobile includes mobile versions of Microsoft Office applications that are made for your phone. Everything you need is in the Office Hub on your phone.
To get to the Office Hub, on Start, flick left to the App list, and then tap Office

.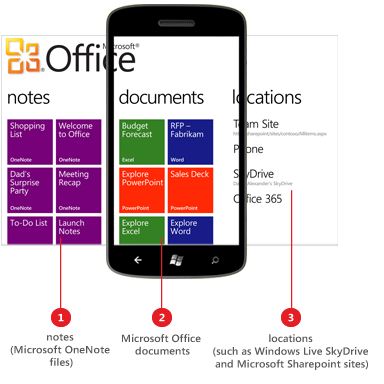 Tip
If you think you'll go to the Office Hub a lot, pin it to Start. To learn more, see Pin things to Start.
Review documents on your phone
Reviewing Microsoft Office documents is probably one of the most common ways you'll use Office Mobile on your phone. For example, if someone sends you a document in email, shares it on OneDrive (formerly SkyDrive), or posts it to a Microsoft SharePoint site asking for feedback, you can review the document and add your comments. When you're done, you can send it back to them in email, save it to OneDrive, or save it back to the SharePoint site from your phone. You don't need to wait until you're at your desk or have your laptop and a wireless connection to get stuff done.
Edit on the go
Office Mobile lets you edit Office documents and notes on your phone too. This is great for making those small and last-minute changes. You can quickly fix a small typo in a Word document, add a last-minute number into an Excel workbook, make a small change in a PowerPoint presentation, or jot down a quick note in a OneNote file. You can even start a new Word document, Excel workbook, or note on your phone. To learn how to do these things and more, see Use Microsoft Word Mobile, Use Microsoft Excel Mobile, Use Microsoft PowerPoint Mobile, or Use Microsoft OneNote Mobile.
Keep in sync
You can keep your Office files in sync with OneDrive. When you're signed in with a Windows Live ID on your phone, notes you take on your phone are automatically synced to OneDrive. You can also save your Word documents, Excel workbooks, and PowerPoint presentations directly to OneDrive too. With OneDrive, you can get your latest notes and documents from your phone or computer. For more info about syncing documents with OneDrive from your phone, see Sync documents with OneDrive.
If your organization uses a Microsoft SharePoint site, you can open and edit documents on the site right from your phone. When you make and save changes to the document on your phone, people with the right permissions can see your changes in the document on the site. Likewise, if someone else makes a change to the document, you can get the latest version so you have the most up-to-date copy. This includes documents on SharePoint Online sites that are available with Microsoft Office 365. For more info, see Use Microsoft SharePoint Workspace Mobile.
Edit later on your computer
When you've saved your documents and notes elsewhere—whether they're on OneDrive, a SharePoint site, or sent as an email attachment—you can continue working on them on your computer using Microsoft Office 2010 or Microsoft Office Web Apps in your web browser. They have many more features too, so you can do a lot more when you're back at your computer.