Set up an Xbox LIVE account
It's free to join Xbox LIVE and set up an account.
If you already have an Xbox LIVE account, you can use your existing account and gamertag, or easily change the Windows Live ID associated with your gamertag. To learn how, see Change my gamertag.
On Start, tap Xbox LIVE .

In Games, tap Join Xbox LIVE or sign in.

You'll be asked to set up your phone with a Windows Live ID, set up your Xbox LIVE account, or sign in.
Once you have an account, you can see your gamertag, check your gamerscore, customize your avatar, and more in the Games Hub.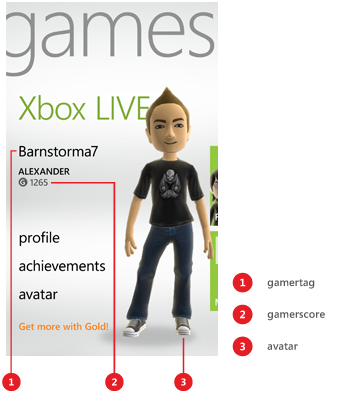 Notes
Most of what you can do on your Windows Phone can be achieved with a free Xbox LIVE membership. However, if you also play games on an Xbox 360 console, you might want to consider buying a gold Xbox LIVE subscription for access to tons of exclusive content and the ability to play online with friends.
Xbox LIVE may not be available in your country or region.