Local Scout
New to the area or just looking for something new to do? Local Scout can help you find nearby restaurants, shops and things to do. You can then get relevant info about the different places to help you decide where to go.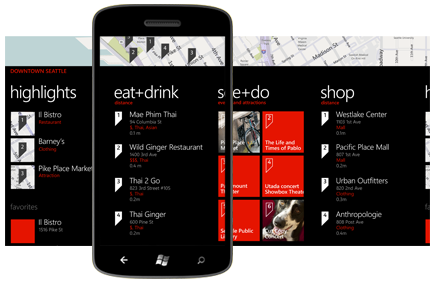 To use Local Scout
Press the Search button, tap Scout , then do one or more of the following:

Under

Eat+drink

, tap a restaurant that interests you. You'll get info about the restaurant, such as the address, directions, phone number, opening hours, website and other info. Press the

Back

button to go back to your search results.
To find places to go to and things to do in the area, flick left to

See+do

, then tap an event or attraction.
To find places to go shopping, flick left to

Shop

, then tap a shop to get more info about it.
To see highlighted places and any of your favourite places that are nearby, flick left to

Highlights

.
Tips
To pin Local Scout to Start, in Local Scout, tap

More

>

Pin

.
Tap the map at the top of the screen in Local Scout to see the different places on a map.
To find certain kinds of restaurants in the area, under

Eat+drink

, tap

Distance

, tap the

I care about

list, then tap

Cuisine

. Tap the kinds of restaurants you're interested in, then press the

Back

button to see restaurants that meet your criteria.
To use Local Scout for another area
You can use Local Scout for other areas, too. For example, if you're in Aberdeen and taking a trip to Liverpool, you could search in Maps for Liverpool, then use Local Scout to help you plan your trip.
On Start, flick left to the App list, then tap Maps .

In Maps, tap Search .

In the Search box, type the name of a town or city.

Tap Go .

Tap Scout .
Notes
Local Scout may not be available in your country or region. For more info, see Feature and service availability.
You won't be able to use Local Scout if your phone has only 256 MB of RAM. To find out how much RAM your phone has, go to

Settings

>

About

or contact your phone manufacturer for more info.
Related topics