Moving from Android to Windows Phone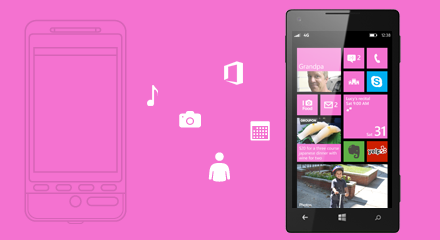 Welcome to your Windows Phone! We put together this info to help make the switch from your Android to your Windows Phone as quick and easy as possible. Read on to learn how to get your stuff moved over and your accounts set up.
If your new phone is a Nokia, there are a couple of apps that can help you make the switch: Transfer my Data uses Bluetooth to copy your contacts, and Welcome Home to Windows Phone can transfer contacts, photos, and more.
It's usually pretty simple to get your email set up on your Windows Phone, whether you're using Google, Outlook.com, Exchange, or something else: just add the account to your phone, and off you go.

There are a few ways to move your contacts and calendars over to your new phone.

| | |
| --- | --- |
| In an online account | Set up the account on your Windows Phone and your info should automatically sync. This works for Google, Outlook.com, Facebook, and other common account types. |
| On a SIM | If both your old phone and your new phone use a SIM card, you can often move it to your new phone to import your contacts. Learn how |
| On your computer | If you use Outlook, you can sync contacts and calendars between your computer and your new phone. |
| Somewhere else | If your contacts and calendars are somewhere else (or you run into issues), our Sync wizard can walk you through your options. |

If you already store your docs on SkyDrive, great—they'll show up in the Office Hub when you sign in to your phone with your Microsoft account. If you've been using Google Drive, you can download the docs you want to your computer as Office files, and then copy them to your phone (or upload them to SkyDrive to get to them from anywhere).

How you move your music to the Music + Videos Hub on your Windows Phone depends on where it is now.

You can also buy, stream, and download songs from the cloud-based Xbox Music service. (Note: Protected media files in your music collection, such as Protected MPEG-4 files, can't be copied to your phone.)

Need more info? Get a guided tour of your syncing options with our Sync wizard (English only).

Transfer the photos and videos you want from your Android onto your computer, then sync them to your phone. (Any photos you've shared on Facebook will show up as online albums in the Photos Hub as soon as you set up your Facebook account on your phone.)

If you want to put your pics in the cloud so you can get to them from anywhere, check out the SkyDrive app—it's available for pretty much anywhere you might be keeping photos.

Flickr fiend? Good news: it's available on Windows Phone. Get it

Take a look at these topics for more help and tips: