Touring Windows Phone Store
Trick out your phone with apps, games, music, and podcasts from the Windows Phone Store.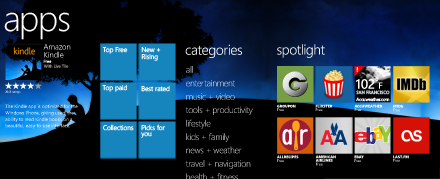 You can shop for apps and games in two convenient locations:
Your phone (on

Start

, just tap

Store

)
If you're looking for music, check out the new Xbox Music Store that you can access in the Windows Phone Store or the Music + Videos Hub on your phone.
The Store makes virtual shopping easy and fast. Check out these topics for more info:
Note
Windows Phone Store may not be available in your country or region.