Sync calendars and to-dos
When you set up an account from Outlook or Windows Live, the calendar associated with that account will be synced to your phone and will automatically stay in sync. To learn more about getting your accounts set up, see Set up or delete an email account. Once the accounts are set up, your phone will sync the following appointments (these settings can't be changed):
Two weeks of past single-instance (non-recurring) appointments.
All future single-instance appointments.
All recurring appointments that have occurrences within the last two weeks or anytime in the future.
The to-do list on your phone will automatically sync with your Windows Live or Outlook task list, depending on which account the to-do list is created in. To learn more about to-dos, see Create, edit, or delete a to-do.
When you set up an account from another service, you might be able to sync the calendar associated with that account by doing the following:
On Start, flick left to the App list, tap Settings , and then tap Email + accounts.

Tap the account name, and then select Calendar to sync that calendar to the phone.

Tap Done .
If you're using an Outlook calendar without Microsoft Exchange, you won't be able to sync your calendar to your phone. However, you can move the content of the calendar to Windows Live, then sync your Windows Live calendar to your phone. To learn how, see the Sync Outlook Contacts & Calendars to Windows Phone 7 tutorial in Microsoft Support.
Viewing multiple calendars
Windows Phone supports multiple Exchange ActiveSync (EAS) accounts. So, if you have multiple calendars from different services (Exchange or Windows Live, for example), you can view them all together on your phone, each represented by a different color.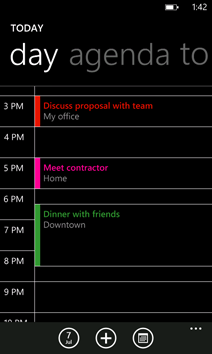 You can also view multiple sub-calendars within your Windows Live account. To show or hide sub-calendars, go to Calendar, tap More

> Settings, and then turn each calendar on or off.
If you've set up a Facebook account on your phone, you'll see your Facebook events in your calendar. If you get a lot of Facebook invitations, you can reduce calendar clutter by filtering out events you haven't responded to. In Calendar settings, tap Only show Facebook events I've responded to.
Note
When you set up a Google email account on your phone, the calendars might not sync to your phone, depending on what version of the Windows Phone 7 software your phone has installed. For more information, see Sync Google email, contacts, and calendars FAQ.
Related topics