Touring Marketplace
Marketplace is Microsoft's virtual store for apps, games, music, movies, TV shows, and podcasts for your phone.
If you're looking for apps and games, you can browse and shop Marketplace from two convenient places:
Your phone (just tap

Marketplace

on

Start

)
If you're looking for music, videos, or podcasts, check out the Zune Marketplace from your PC in the Zune software. (You can also get music and podcasts from the Marketplace Hub on your phone.)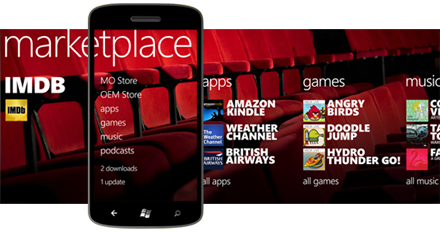 The following topics cover the different ways to use or access Marketplace:
Notes
To download apps to your phone, you'll need Windows Phone 7.5. If you're not sure which software version is currently installed on your phone or how to install an update, visit Update central.
You won't be able to manage podcast subscriptions on your phone or watch video podcasts if your phone has 256 MB of RAM. To find out how much memory your phone has, on

Start

, flick left, tap

Settings

, and then tap

About

.
Marketplace may not be available in your country or region.