Windows Phone for business
Built-in support for Microsoft servers and services
Exchange ActiveSync

Office 365
Deploying Windows Phone 8 with Office 365 is a no-brainer. With auto-discovery, employees just need to enter their email address and password, and all services are automatically set up on their phone. No need for training or support—it just works.

Exchange Server
Windows Phone 8 works with any Exchange Server, so you can minimize the cost of managing smartphones for your business by using what you already have and know.

With Exchange ActiveSync (EAS) email synchronization and phone management, you get a reliable and trusted experience. Windows Phone 8 supports the latest version of the EAS protocol while maintaining compatibility with older versions.
Phone and app management

With Windows Intune and System Center 2012 Configuration Manager, it's easy to deploy policies to help secure data, perform hardware inventory, and distribute apps to all Windows Phone 8 phones.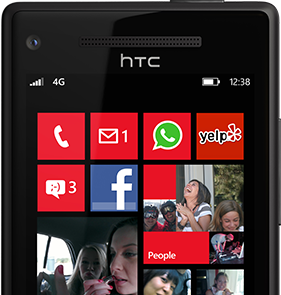 Third-party phone management
Windows Phone 8 extends native phone management for policies, inventory, and private app distribution to your choice of management system.
Controlled access to LOB information
Private software distribution
Publish your organization's app catalog and distribute your line-of-business (LOB) apps to phones.
Enterprise LOB app support
With Windows Phone 8, LOB apps are under your control. You can develop, package, sign, and distribute your apps, and maintain end-to-end control.
Custom Company Hub
Keep employees productive by creating a custom Company Hub. This one-stop Hub for mobile business users will deliver all the apps and information they need right to their phone.