Play games
Windows Phone is much more than a phone—it's also a great portable gaming device. Thousands of games are available in Marketplace to download and play. And if they're Xbox LIVE games, you can sign in to keep track of your scores, rack up Achievements, and even play some games with your friends.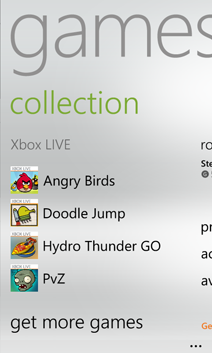 To learn how to find and download games on your phone, see Get apps from Marketplace.
To play a game
On Start, tap Games .

Flick to Collection and tap to open a game you've already downloaded.

If you want to see whether you have a game invitation or a turn notification, flick to Requests. If you want to play a game with a friend, but don't have any games on your phone that allow more than one player, flick to the bottom of your collection, then tap Get more games to see what you can try or buy from Marketplace.
Tips
If you play a game frequently and want to get to it quickly, pin it to Start. In your

Collection

, tap and hold the game, then tap

Pin to start

.
After playing a game or using an app for a while, you can let others know what you think when you rate and review apps.
To invite someone to play a game with you
Certain games are multiplayer games, meaning that you can play them with other people. Not all games have the option to play with more than one person. A good way to tell is to check in the main menu of the game to see if invitations are possible, or check the Details pivot for the game in Marketplace.
On Start, tap Games .

Tap on a game to open it. On the game's main menu, look for an option to invite someone else to play, then follow the instructions.
To accept an invitation from someone to play a game
On Start, tap Games .

Flick to Requests to see if a friend has invited you to play with them.

Tap the invitation to accept it and start playing.

If you don't have the game installed, tap the invitation. You'll be redirected to Marketplace, and if the game's available in your area, you'll be able to download it and play.
Note
Marketplace and/or Xbox LIVE may not be available in your country or region. If it is available, you'll need to either sign in with an existing Xbox LIVE account or set up an Xbox LIVE account.
Related topics