Office Hub
The Office Hub on your phone is the place to go to work on your Microsoft Office documents. Go there to find documents, open them and make last-minute changes, or even start new documents. In the App list, tap Office

to get started. In there, you'll see a couple of different ways to find and open your documents.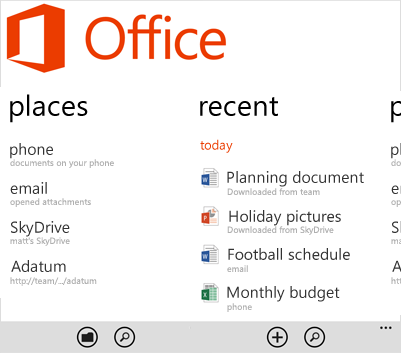 Recent

– Quickly find and open documents you've recently used. Or if you want, start a new document from here.

Places

– Get to Office documents that are on your phone or saved someplace else, such as on Microsoft SkyDrive, on a Microsoft SharePoint 2010 (or later) site or on a SharePoint Online site (which is available with Microsoft Office 365). And if you've opened documents from emails, you can tap

Email

to get to them.
Related topic