Playing games
Windows Phone is much more than a phone – it's also a great gaming system. Thousands of games are available in the Windows Phone Store to download and play. And if they're Xbox games, you can sign in to keep track of your scores, rack up achievements and play with friends.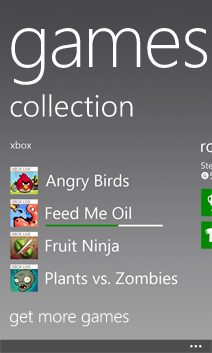 To play a game
On Start , tap Games .

Do one of the following:

Flick to

Collection

and tap to open a game you've downloaded.
Flick to

Notifications

to see if it's your turn in a multiplayer game, or if you have any game invitations from friends.
In

Collection

, pan down and tap

Get more games

to download games from the Store.
Tip
If you play a particular game a lot and want to get to it quickly, pin it to Start. In your

Collection

, tap and hold the game, then tap

Pin to start

.
To invite someone to play a game with you
Some games are multiplayer, meaning that you can play them with other people. A good way to tell if a game has multiplayer options is to check the game's Details pane in the Store.
On Start , tap Games .

Tap on a game to open it. On the game's main menu, look for an option to invite someone else to play, then follow the instructions.
To accept an invitation from someone to play a game
On Start , tap Games .

Flick to Notifications to see if a friend has invited you to play a game.

Tap the invitation to accept it and start playing.

If you don't have the game installed when you tap the invitation, you'll be redirected to the Store to download the game.
Note
The Windows Phone Store and/or Xbox may not be available in your country or region.
Related topics