Games Hub
With Windows Phone and Xbox, your gaming experience follows you wherever you go. On Start

, tap Games

to play on your own or with friends, show off your gamerscore, customise your avatar, rack up achievements, and more – whenever you want, wherever you are.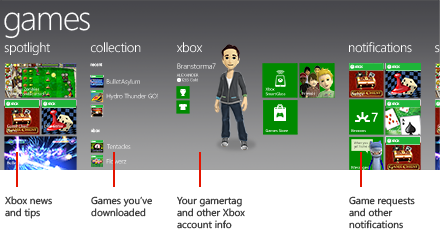 Collection

– Access all of your games from one place, including demos and Xbox games.

Xbox

– See your gamertag and profile, review your achievements, customise your avatar, edit your account info and more.

Notifications

– View invitations to play with friends, or see when it's your turn in an ongoing game.

Spotlight

– Read up on gaming news, tips and trends from the Xbox team.
Note
Xbox may not be available in your country or region.
Related topics