Getting started with Windows Phone 8
There's so much to explore when you get a new phone. What can you pin? How do you change the colours and ringtones? What's the easiest way to get your contacts? And where, oh where, can you get all the apps? Here are a few ideas to help you figure out where to start with your Windows Phone 8.
First things first...
Signing in with a Microsoft account. A Microsoft account is the email address and password you use to sign in to Hotmail, Xbox, Windows, Messenger, SkyDrive and more. You don't have to sign in with your Microsoft account first, but once you do, the possibilities on your phone open up immensely. Once you've signed in, you can:
Download apps, music and games from the Windows Phone Store.
Create backups of your phone settings to guard against mishaps.
Play Xbox games with friends, and get your gamerscore and avatar on your phone.
Get your Facebook, Twitter and LinkedIn feeds in your People Hub.
Automatically upload your photos and videos to SkyDrive.
Listen to music with Xbox Music.
To learn more about Microsoft accounts, or to work out which is the best one for you to use, see Microsoft account.
Find your way around
New to Windows Phone, or need a refresher? Start with the basics.
The buttons. You can do a lot with just a few buttons. The Start

button is the centre of gravity on your phone — press it to go back to your Start screen no matter where you are, or press and hold it to use Speech. Press Search
to go to Bing to find whatever you're looking for (or just to browse the latest news, videos, deals, films and more). Press Back

to go back one screen, or press and hold it to jump quickly to any of the last five things you were doing. To get the whole story, see The three buttons: Back, Start and Search.
Start. This is your command centre, your front page, the place where everything is just the way you like it. You can pin all sorts of things to Start – apps, of course, but also contacts, Groups, Rooms, map locations, songs, music albums, photo albums, OneNote notes and a lot more.
Many Tiles offer information at a glance, so you don't even have to go into the app to learn what the temperature is, how many emails you have or whether a friend has recently posted a picture on Facebook. When you pin a contact to Start, you'll get their Facebook, Twitter and LinkedIn updates from that Tile, plus you'll see when they've called or sent you any messages. And it's like speed dial – it takes just two taps to call, text or email them.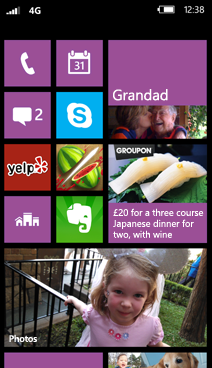 To pin most things to Start, tap and hold the item until the menu appears, or tap More

, then tap Pin to start. For others, you can just tap Pin

in the menu bar. Then once you've added the Tiles you like, move them wherever you'd like.
You can choose the size of your Tiles, too. Tap and hold a Tile, then tap the Resize arrow to pick the size – use the smallest option to fit more in, or make them middle-sized to get the "Live-ness" of Live Tiles. With some, you can even make them double-wide for panoramic detail.
The App list. From Start, you're just a flick away from all the apps on your phone. Flick left to see everything you have, plus get to Settings, set alarms and find new things to pin.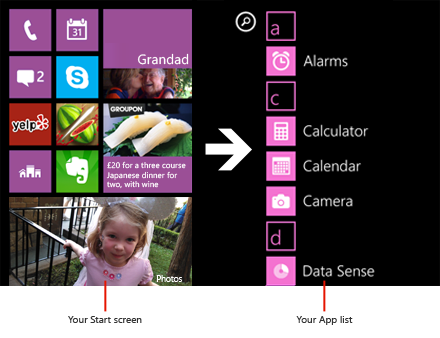 Brighten the place up a bit
No two Windows Phones are exactly alike. You can make your phone look and sound just the way you want it and leave it like that indefinitely, or change it up as often as your mood shifts.
Here are a few ways to put your stamp on your phone.
Get some apps. We probably don't need to talk you into downloading some apps from the Windows Phone Store, which you can do either on your phone or on the web. Oodles of apps are free, and you can try out many of the paid-for ones – before handing over your cash – to see if you like them.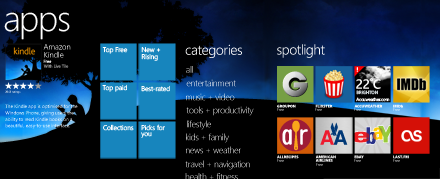 Once you get into the habit of using your phone, you might forget that the Store is there and stop looking for new things to add to it, which would be a shame, because apps are a constantly renewing resource. So just keep it in the back of your mind – when you have a few minutes to spare, go browsing to find some new gems to try.
Pick a colour. Choose a theme colour and it'll show up all around your phone – on Start, in your App list, in Messaging and more. You can also make your background either white or black. To pick your theme, in the App list, tap Settings

> Theme, then tap Accent colour or Background.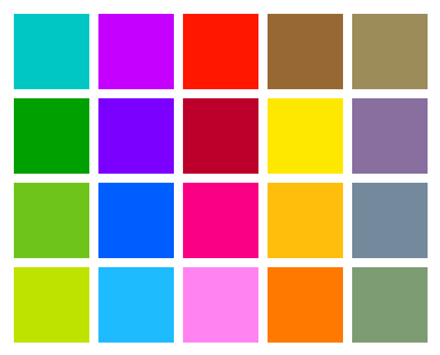 Choose ringtones and sounds. You can assign ringtones to people and choose sounds for alerts. Pick the right chirps, jingles, rings or songs to suit your tastes.
Lock screen. You don't even have to unlock your phone to get a picture of what's happening in your day. Choose what you want to see on your lock screen, including:
Phone calls and voicemails
Text messages
Email messages
Upcoming calendar appointments
Game notifications
Notifications from some of the apps you get in the Store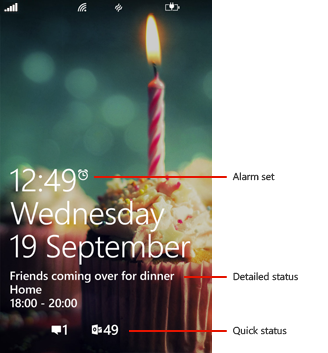 You can also pick the image that greets you when you turn on your phone. Pick one you like best, or show an image from Bing. If you're playing music, we can also show you a picture of the artist. To choose your lock settings, in the App list, tap Settings

> Lock screen.
3, 2, 1, contacts
It might seem silly to mention, but your Windows Phone is, in fact, a phone that you can use to call people. And, of course, you can text, email, IM, Facebook chat, share stuff and have a group chat in a Room. But first you'll need to get your contacts sorted.
Contacts from accounts. If you already have an email account online, chances are you have your contacts stored with that email account. The fastest way getting those contacts on your phone is to add your email account.
Not only that, when you add Facebook, Twitter and LinkedIn to your phone, you get all your contacts from those networks too. You'll also be able to see all of your feeds and updates from the People Hub, browse their albums in the Photos Hub and check your friends' Tiles to see what they're up to. Plus, your Me Tile will show you when anyone replies to something you've posted.
Contacts from your old phone. If you have contacts on your old phone, have a look at Importing contacts from your old phone.
Adding new contacts. It's easy to quickly create a contact. Just tap a phone number in your call history, then tap Save

. Or, to start from scratch, tap Add

in the People Hub contact list.
To learn more, see Importing contacts onto your new phone.
Me and we
Rooms, Groups and your Me Card give you a variety of handy ways of staying in touch with the people who matter most to you. And you can get to everyone from your People Hub.
The People Hub. Once you've got your contacts sorted, the People Hub is your one-stop shop for staying in touch. On Start

, tap People

, and you'll find all of your contacts, plus anyone you've talked to or checked on recently, all of your friends' posts on Facebook, Twitter or LinkedIn, and all of your Rooms and Groups. Speaking of which...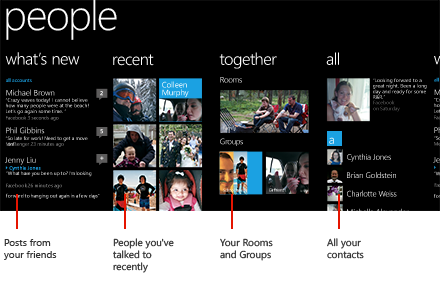 Rooms. With Rooms, you send a text message inviting family and friends to join and, when they accept, you'll be able to chat with the whole room and privately share a calendar, photos and notes with them. You can even invite people who use an iPhone or a Windows Phone 7.

Groups. With Groups, you just add some contacts, then you can see updates from Facebook and Twitter, new messages and missed calls, just from those people, all in one place. Plus, you can send them group texts and emails. No need to invite them – a Group is just for you!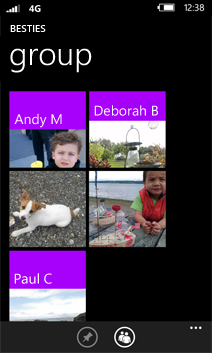 Your phone comes with a "Family Room" and a "Best friends" group to get you started — you'll see their Tiles when you go to People

and flick to Together. Tap one to set it up. For more info, see Using Rooms and Groups.
Me. Rooms and Groups are all about the people close to you, but you are the star of your Me Card. In People

, flick to All, then tap your profile picture. There, you can post to your social networks or check in, see any recent posts to or about you, update your profile picture and more. Pin your Me Tile to Start and you'll see right away whenever someone replies to your posts or mentions you in theirs.
You can take it with you
It's easy to get your photos, videos, music and ringtones from your computer to your phone (and vice versa) with the Windows Phone apps and Windows Explorer. The app you'll need depends on your computer, and your computer should know which one you need as soon as you plug your phone in. But just in case you need links, see Synchronising your Windows Phone.
Peace of mind
Windows Phone gives you two good ways to guard against mishaps – back up your stuff and find your phone if it's lost.
Back up your stuff. When you sign in with your Microsoft account on your Windows Phone, you can turn on the service that lets you automatically save things to the cloud. When you set up backups on your phone, you can:
Automatically upload your photos to SkyDrive so you can see them from anywhere you can access the web.
Back up your SMS and MMS messages, just in case.
Create backups of your phone's settings, including the list of apps you've installed, your theme colour, Internet Explorer favourites, accounts and more.
You can fine-tune your backup options in Settings

> Backup. For example, you can automatically upload your photos at a high or lower resolution, or manually back up your settings any time you choose.
Find My Phone. Phones have a way of wandering off sometimes. Whether it's just a "Which sofa cushion could it be under?" moment or a "Left it in a taxi in Dubai" panic, Find My Phone can help you locate it. From windowsphone.com, you can remotely ring it, lock it and post a message, erase it, or just locate it on a map. To learn how to set it up, see Finding a lost phone.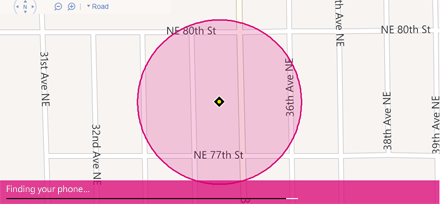 Related topics