Using your phone for work
Even if you're away from the office, you can still get work done and stay in touch with colleagues using your Windows Phone. Here are some things you can do to use your phone for work.
Start your work day
Get your day started with a glance at your Start screen. With Live Tiles, you can see what's new — including new email, calls, voicemails, messages and more. If you get apps from the Windows Phone Store, you can pin them to Start along with many other things too. Everything goes back to Start, so by customising your Start screen you can quickly get to the info you need now and throughout the day.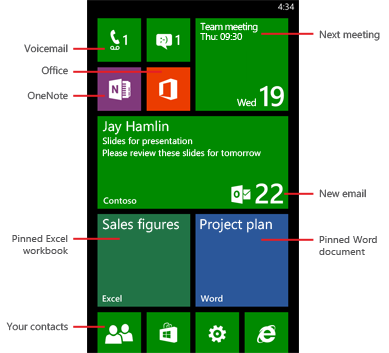 Stay connected
A big part of staying in touch with people is getting connected and staying that way. You can use your mobile data connection when you're out and about, and connect to a WiFi network when one's in range that you can connect to — at home, in the office, at the airport, near a WiFi hotspot and just about anywhere else. Using WiFi often means a faster connection, and it can help reduce your mobile data usage to save some money.
Keep on top of things with Outlook Mobile
Microsoft Outlook Mobile is on your phone and lets you send and receive emails, use your calendar and work on your to-do list. You can do a lot of the same things you do in Microsoft Outlook on your computer on your phone.
Get in touch with people from work
The People Hub lets you get in contact with colleagues and business contacts. They can be contacts that appear after you've set up your email account (such as a Microsoft Exchange or Microsoft Office 365 account) for work. Or they can be contacts from somewhere else, for example a social network like LinkedIn that you set up on your phone.
After you find the person you're looking for in the People Hub, you can email, call, text or chat starting from there. If you use Microsoft Lync on your computer, you can download and use Microsoft Lync 2010 for Windows Phone to instant message (IM) with people at work.
Work on Office documents
With your Windows Phone, you can work on Microsoft Office documents that might be in a variety of places — on your phone, opened from email, on Microsoft SkyDrive or on a Microsoft SharePoint or SharePoint Online site. Just go to the Office Hub to open a document, or to start a new Microsoft Word document or Microsoft Excel workbook.
You don't need to download anything else to open, view, edit and save Office documents because Microsoft Word Mobile, Microsoft PowerPoint Mobile and Microsoft Excel Mobile are already there and built into the Office Hub. Your documents stay in sync when they're stored on SkyDrive or SharePoint, so you always have the latest copy whether you're at your computer or on your phone.
Share meeting notes
Does your team take meeting notes in a Microsoft OneNote notebook that's shared on SkyDrive or SharePoint? If they do, you can view and edit the notes on your phone using Microsoft OneNote Mobile. So even if you're away from the office or couldn't attend the meeting, you can see what happened and get the latest info on your phone.
Get custom apps from your company
Companies can create a company account for Windows Phone, and then offer a Hub for apps that are made just for your company. This lets you go to one place on your phone and use apps that are specifically designed for the work you do.
Keep your phone and data safer
Windows Phone has a lot of built-in features, like device encryption and device management, to help keep your data more safe and secure. You can also use these features to help keep the info on your phone safe.
Learn more
Want to learn more about business-related features on your phone? Check out the Windows Phone 8 for business page.